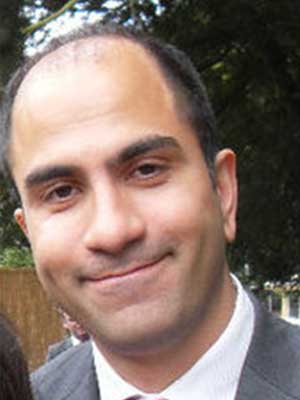 Wednesday
One Ashford Hospital, 18:00 – 20:00 Weeks 1 & 3
Friday
Chaucer Hospital, 09:20 – 12:30
Mr Vikram Dhar
Speciality: ENT
Mr Dhar graduated in Medicine from Imperial College, London in 2000 where he was awarded a Bachelor's degree in Histopathology during which he carried out lab based Cancer research.
After posts at Great Ormond Street Children's hospital, St Bartholomew's, The Royal London and Chelsea and Westminster hospitals in London he commenced his higher surgical training in ENT(Ear, Nose and Throat Surgery).
He was selected to join the highly competitive London Deanery Otolaryngology Training Programme, training at hospitals including Guy's and St Thomas' and again at Great Ormond Street Children Hospital. This provided exceptional training in all aspects of ENT surgery.
In 2012 Mr Dhar won a place on the Royal College of Surgeons coveted Training Interface Group year long fellowship at the world famous Queen Victoria Hospital, East Grinstead in Advanced Head and Neck Oncology. The fellowship programme prides itself in giving extraordinary surgical experience in the fields of Plastic Surgery, Maxillo-Facial Surgery and ENT.
He was awarded the Certificate of Completion of Training by the Postgraduate Medical Education Training Board (UK) in 2013.
He and his young family decided that a life in the country is what they wished for and he joined East Kent Hospitals University NHS Trust in 2014 as an ENT Consultant.
Mr Dhar has a busy Thyroid, Head and Neck, General including Paediatric ENT Practice. He has regular operating lists and clinics in all these areas, as well as on-call commitments dealing with a wide range of ENT pathology. He has a broad ranging practice in the NHS and private sector from Head and Neck lumps and nose problems to Children with ENT problems and Ear issues.
In addition to his clinical practice, Mr Dhar is the Royal College of Surgeons Surgical Tutor for the William Harvey Hospital. He is heavily involved in the training of the next generation of Surgeons. His roles at the Royal College and KSS Deanery have involved him in National Recruitment, ENT curriculum development, assessment and appraisal of trainees. This passion for training was reinforced after he was awarded a London deanery bursary enabling him to gain a Masters in Surgical Education at Imperial College, London.(2011/12)
He has published 23 publications and a book chapter, presented nationally and internationally and has organised and taught on numerous courses ultimately focussed on improving the outcomes of his patients.
Mr Dhar regularly attends courses and conferences all over Europe and beyond, learning new techniques and furthering his knowledge.
Outside of medicine he enjoys time with his young family, travelling, global cuisine and appears to be developing an interest in gardening.
Private & NHS Treatment
NHS Treatment:
William Harvey Hospital, Ashford.
Kent and Canterbury Hospital
Private Treatment:
Chaucer Hospital, Canterbury
One Ashford Hospital, Ashford
Access to Spencer Wing Ashford for operating
Education and Training
Imperial College, London BSc (hons), MBBS, FRCS (otol-hns), MEd
South Thames ENT/Head and Neck Higher Surgical rotation. This involved training at world renowned units such as Great Ormond Street Children's  hospital and Guy's and St Thomas' hospital.
Fellow of the Royal College of Surgeons, England in 2011.
Awarded The Royal College of Surgeons' Interface Head and and Neck Oncology fellowship at Queen Victoria hospital, East Grinstead.
He completed his training with a second surgical fellowship at the Royal Surrey hospital , Guildford.
He is the Royal College of Surgeons' College tutor for Surgery and the Core Training Programme director at the William Harvey Hospital, Ashford.
Mr Dhar was awarded a Masters in Surgical Education from Imperial College, London and is dedicated to training the next generation of surgeons.
Special Interests
Head and Neck (Cancer and Benign), Endocrine (Thyroid and Parathyroid), General ENT including Rhinology
Publications
Mr. Dhar has numerous publications in peer reviewed journals and International presentations in the field of ENT Surgery.
My Fees
Consultation:
My consultation fees are set out below.  Please note these fees do NOT include any investigations, procedures or treatment, these may be invoiced separately by the hospital.
Initial consultation £200
Follow up consultation £150
My Additional fees (hospital fees may also apply)
Microsuction £75
Nasendoscopy £75
Patient Contact Form
Please note that we will require a letter of referral from your GP prior to booking your appointment.