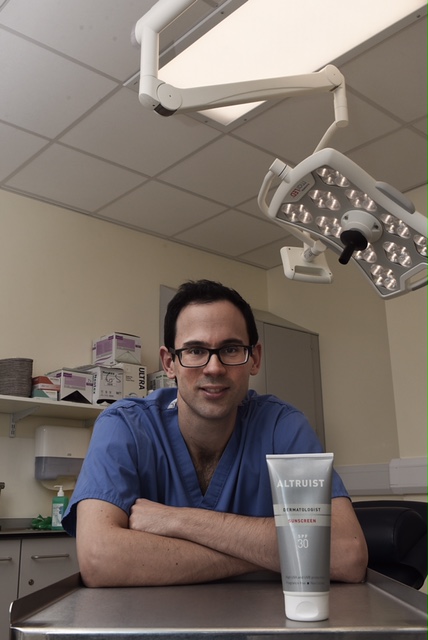 Tuesday
One Ashford Hospital 09:00 – 13:00
Chaucer Hospital Canterbury 14:00 – 19:00
Dr. Andrew Birnie
Speciality: Dermatology
Dr Birnie is a consultant dermatologist specialising in skin cancer and Mohs micrographic surgery 
Dr Birnie is involved in the Dermatologic and Aesthetic Surgery International League whose main aim is to further the skills of skin surgery to a wider worldwide audience. He has taught in South Africa, Malta, Venice, Dublin and Vienna in addition to regular presentations and teaching in the UK.
Dr Birnie also has set up a monthly dermatology service for the people of Gibraltar.
Dr Birnie does not do as much sport as he would ideally like, but finds time to swim, cycle and occasionally watch Canterbury play rugby (he sponsors the club physio). He has a wife and two daughters.
Private & NHS Treatment
NHS Treatment:
Kent & Canterbury Hospital
William Harvey Hospital
Private Treatment:
BMI Chaucer Hospital
Kent & Canterbury Hospital (Mohs Surgery only)
One Ashford Hospital
Education and Training
University of Bristol BSc (Hons) 1997, MBChB 2000, MRCP (London) 2003
Fellowships
He is a Fellow of the Royal College of Physicians in London
Dr Birnie was selected for a fellowship in dermatological surgery at the Welsh Institute of Dermatology in Cardiff where he increased his repertoire of complex closures following the excision of skin cancers and learnt how to perform Mohs micrographic surgery.
Training Programme
Two years in London (including Royal London, UCH and the Hospital for the Tropical Diseases) and five years of Dermatology training in Nottingham
Honorary Senior Lecturer, Nelson R Mandela School of Medicine, University of KwaZulu-Natal, South Africa
Honorary Tutor, Cardiff University Department of Dermatology
Special Interests
Dermatology
Skin Cancer
Dermatological Surgery
Mohs micrographic surgery
Education, Evidence Based Medicine
Sun Protection
My Fees
My consultation fees are set out below.  Please note these fees do NOT include any investigations, procedures or treatment which incur addional fees by me and the hospital.
Initial consultation £245
Follow up consultation £150
I am registered with AXA PPP and all other private medical insurers (except BUPA) and my fees are compliant with their policies
Patient Contact Form
Please note that we will require a letter of referral from your GP prior to booking your appointment.