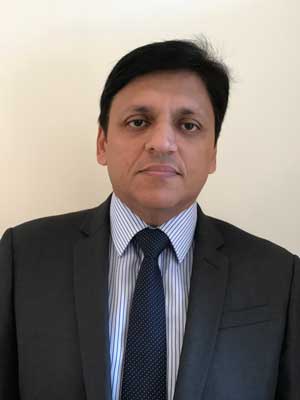 Monday
Chaucer Hospital, 17:30 – 20:00
Thursday
One Ashford Hospital, 18:00 – 20:00
Friday 
Spire Alexandra Hospital 18:30 – 20:00
Dr. Abdul Khan
Speciality: Rheumatology
Dr. Khan is a Consultant Rheumatologist and Physician at Queen Elizabeth Queen Mother Hospital Margate, involved in Musculoskeletal ultrasound training of Specialist Registrars.  He is also supervisor of Core Medical Trainees and an examiner for the 'MRCP Paces Exam' for 'Royal College of Physicians London'.
Dr Khan works closely with physiotherapists, occupational therapists, podiatrists to provide a multidisciplinary team approach towards management of individual patients. Technical procedures such as joint and soft tissue injections are available.
Treatment is tailored according to the individual needs. Patients can expect a personal, empathetic service.
Private & NHS Treatment
NHS Treatment:
Queen Elizabeth Queen Mother Hospital
Private Treatment:
Chaucer Hospital, Canterbury
One Ashford Hospital, Ashford
Spire Alexandra Hospital, Walderslade
Education and Training
Dr Khan has attained extensive experience in Rheumatology and General Medicine having trained in London Deanery in renowned teaching hospitals including Kings College Hospital London and St Georges Hospital London. He has experience in General Rheumatology and sub-specialties of Rheumatology both with inpatient and outpatient management.
Dr. Abdul has been awarded membership including MBBS, MRCP (UK), MRCPI and MRCP (Rheumatology) from the Royal College of Physicians London. He has also awarded Master of Science in Rheumatology (MSc) (passed with Merit) from Kings College London. Dr Khan is also (C.A.S.E) Accredited Focus Musculoskeletal Ultrasound qualified from Canterbury University.
He has expertise in General and Complex Rheumatologic conditions with ultrasound skills for the diagnosis and management of various Inflammatory Musculoskeletal conditions.
Special Interests
Inflammatory joint diseases
Connective tissue diseases
Gout, Osteoporosis, Osteoarthritis
Fibromyalgia, Soft tissue rheumatology
Pain management and Back pain
Rheumatoid arthritis, Spondyloarthropathies (e.g Ankylosing Spondylitis, Psoriatic arthritis, etc)
Soft tissue rheumatology
Stress related musculoskeletal symptoms
Publications
My Fees
Consultation:
My consultation fees are set out below.  Please note these fees do NOT include any investigations, procedures or treatment, these may be invoiced separately by the hospital.
Initial consultation £250
Follow up consultation £150
Patient Contact Form
Please note that we will require a letter of referral from your GP prior to booking your appointment.