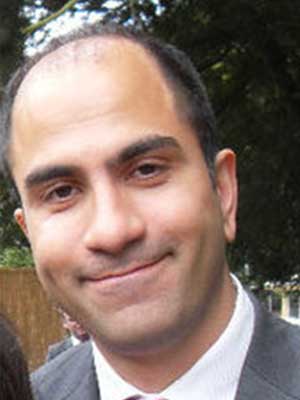 Mr Vikram Dhar
Speciality: ENT
Mr Vikram Dahr started his medical career graduating in medicine from Imperial College, London.
At an early stage he realised that Surgery was hiscareer goal. He was fortunate to train on the prestigious Bart's and the London basic surgical training rotation.
At this juncture he realised that ENT/Head and Neck Surgery fascinated him and was what hewanted to devote my professional life to.
Private & NHS Treatment
NHS Treatment:
William Harvey Hospital, Ashford.
Kent and Canterbury Hospital
Private Treatment:
Education and Training
Imperial College, London BSc (hons), MBBS, FRCS (otol-hns), MEd
South Thames ENT/Head and Neck Higher Surgical rotation. This involved training at world renowned units such as Great Ormond Street Children's  hospital and Guy's and St Thomas' hospital.
Fellow of the Royal College of Surgeons, England in 2011.
Awarded The Royal College of Surgeons' Interface Head and and Neck Oncology fellowship at Queen Victoria hospital, East Grinstead.
He completed his training with a second surgical fellowship at the Royal Surrey hospital , Guildford.
He is the Royal College of Surgeons' College tutor for Surgery and the Core Training Programme director at the William Harvey Hospital, Ashford.
Mr Dhar was awarded a Masters in Surgical Education from Imperial College, London and is dedicated to training the next generation of surgeons.
Special Interests
Head and Neck (Cancer and Benign), Endocrine (Thyroid and Parathyroid), General ENT including Rhinology
Publications
Mr. Dhar has numerous publications in peer reviewed journals and International presentations in the field of ENT Surgery.
Patient Contact Form
Please note that we will require a letter of referral from your GP prior to booking your appointment.
Spencer Private Hospital Margate
Spencer Private Hospital Ashford
Telephone: 01233 616 201 Web:
spencerprivatehospitals.com
Arundel Unit, William Harvey Hospital, Kennington Road, Ashford, Kent TN24 0LZ