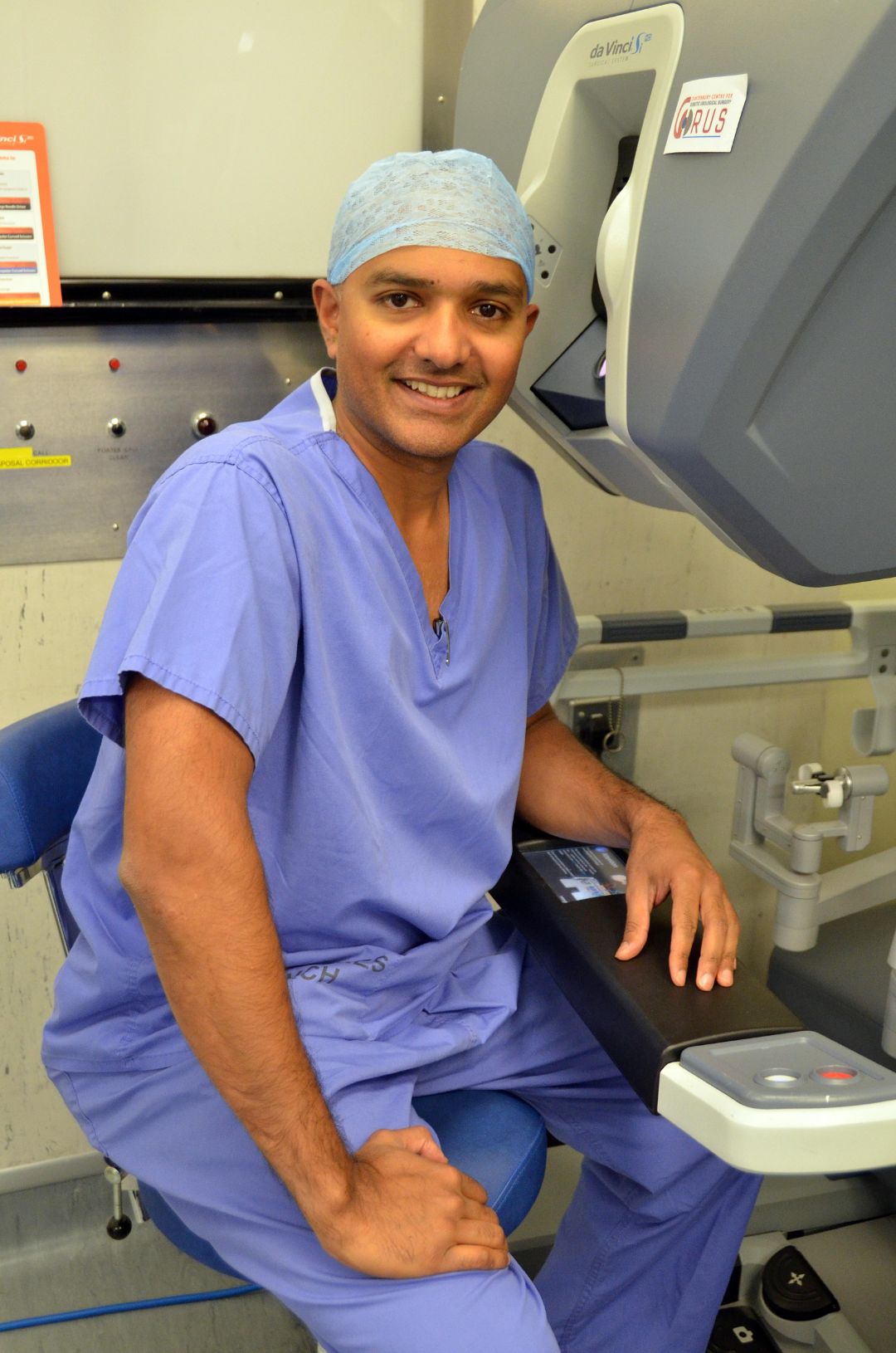 Tuesday
Chaucer Hospital, 14:30 – 17:30
Thursday
One Ashford Hospital, 17:30 – 19:00; Weeks 2, 3 & 4
Dr. Milan Thomas
Speciality: Consultant Urological Surgeon
Mr Milan Thomas is an expert Urological Surgeon and is Lead Clinician for the Department of Urology at East Kent NHS Trust. He qualified in Medicine at University College London, Medical School in 2004.
He is a specialist in robotic surgical treatment of kidney cancer and performs more complex-major operations to the kidney than any other surgeon in Kent (according to BAUS accredited national database figures). He also has special interests in Men's Health and has jointly pioneered the award nominated Men's Health Hub in East Kent, which is offered exclusively at The Chaucer Hospital.
In the NHS he runs a dedicated diagnostic clinic for blood in urine (haematuria) and male LUTS (lower urinary tract symptoms) – symptoms related to benign enlarged prostates. He is therefore pleased to offer his expert skills in these services privately.
Milan is also passionate about teaching and is an assigned educational supervisor for higher surgical trainees in Urology in the KSS Deanery. He received a Trust Award for Recognition of Training at East Kent Hospitals. He has published in peer-reviewed journals and presented at international conferences. He also recently co-authored a book chapter on kidney cancer surgery. He supports national charities in Urology Cancer, through presentations and sporting challenges.
In addition he is a clinical lead for the introduction of a new IT healthcare system to East Kent NHS Trust, which is revolutionising the safe management of patient care through electronic systems.
Milan is committed to offering an honest opinion and will endeavour to provide the most evidence-based treatment options available.
He welcomes patient feedback, which is readily available on online platforms for patients to review from common online searches.
Private & NHS Treatment
NHS Treatment:
William Harvey Hospital, Ashford.
East Kent Hospitals University Trust.
Private Treatment:
The Chaucer Hospital, Canterbury
One Ashford Hospital, Ashford
Education and Training
Fellow – Royal College of Surgeons of England 2013
GMC – Specialist Register Urology 2014
Member – European Association of Urology
Member – British Association of Urology
British Medical Association
Special Interests
Kidney Surgery – Robotic/Laparoscopic Cancer and Reconstructive
Endourology
Cancer diagnostics
Publications
My Fees
Consultation:
My consultation fees are set out below.  Please note these fees do NOT include any investigations, procedures or treatment, these may be invoiced separately by the hospital.
Initial consultation £200
Follow up consultation £150
Patient Contact Form
Please note that we will require a letter of referral from your GP prior to booking your appointment.